Use the Profit Masters Marketing Flier to provide information about this valuable online business education tool where you'll earn 20% commission on every sale that you refer.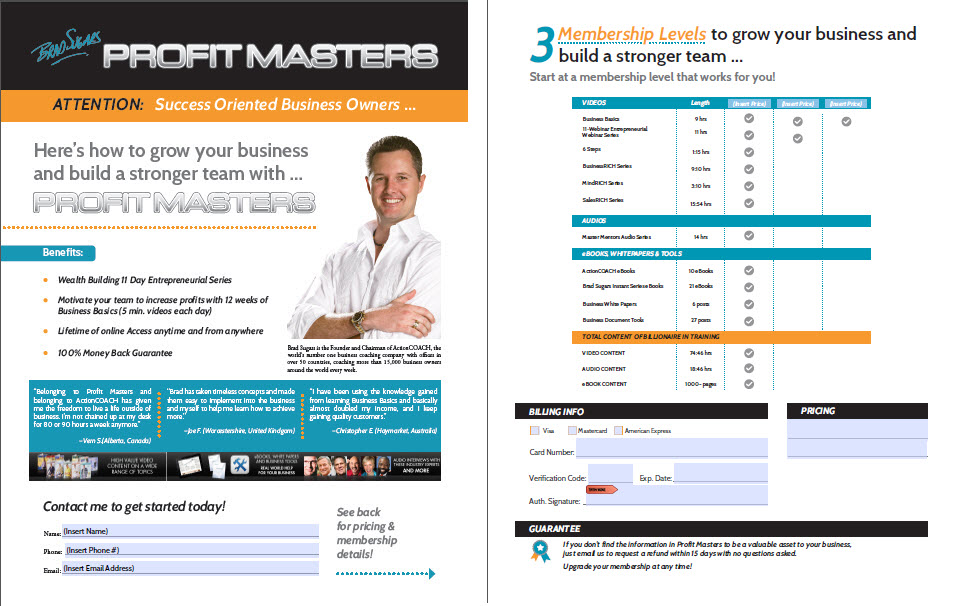 Click on a link below to download:
Your Contact Details on the editable fliers…
We have provided space on the fliers for you to include:
Your contact details
Pricing in your local currency
It is NOT advisable to put your Affiliate URL onto this flier as it is much too long for someone to type into their browser.
The idea would be to have the person contact you about Profit Masters so you can send them an email which has a hyperlink to your Affiliate URL for purchasing the product directly or attending Brad's next LiveONLINE webinar.
However, if you want to include your ActionCOACH website URL on the flier, please ensure that you utilize your Affiliate Banner Ads on either your coach homepage or the page you refer to on your flier.  This way our contact will see reference to Profit Masters immediately on your website and when they click the banner ad, we'll be able to track your contact through our Profit Masters affiliate process.
Contacts going directly to the Profit Masters site (http://bradsugarsprofitmasters.com/) without first using your Affiliate URL or Banner ad will not be traceable back to you as their affiliate so we wouldn't know to pay your commission(s) unless you told us a contact you referred purchased a Profit Masters membership.  That is the beauty of using your Affiliate URL's and Banners – it will do all the tracking back to you as the affiliate referral.