Welcome – to Brad Sugars Profit Masters Affiliate Program!
Leverage the Profit Masters Affiliate program in several ways to:
Coach your existing clients
Educate prospects
Earn Commissions
Brad's 3 Day MasterCLASS 2016 is coming to Las Vegas on December 5-7, 2016.  You have a unique opportunity to earn $1200 in commission for each ticket sale you refer using your affiliate URLs and Banner Ads that tracks the sale back to you.

Click Here to get your unique Afiliate URLs and Banner Ads and watch this video to see examples for marketing with your affiliate links / banners.
As an affiliate, you know the value of the Profit Master online business school with your own free and full access to this membership site.  If you need to request your Profit Masters full access membership login, Click Here and enter your @actioncoach.com email address.
Several Coaches are finding success in our 10 Profit Masters User Account Promotion – Get 10 full access accounts for only $150 per month.  Some  coaches are giving away the full access membership as part of their coaching services.  Others are selling this membership at a discount or monthly subscription price compared to retail price of $997.  Click Here for more details about this promo.
Did you know we have a NEW LiveONLINE Webinar scheduled each month with Brad??  Click Here or on the image below and access the 5 sample email invitations provided for EACH topic.  Send your prospect database an email each week.  We'll keep track of who you refer to these webinars and when they ultimately purchase a Profit Masters membership, we'll notify you and also send you a 20% commission check at the end of the quarter…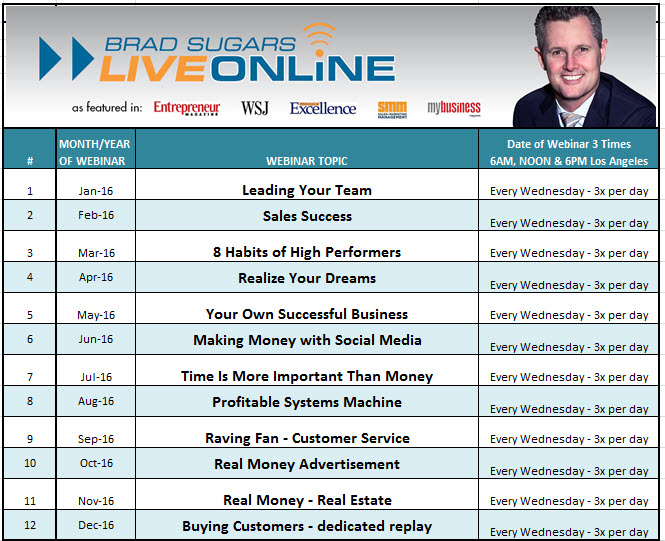 As you know Brad is all about establishing "SYSTEMS".  So we've been able to"systemize" last year's LiveONLINE webinars and leveraging the replays to this new round of the LiveONLINE webinar series with Brad and to continue growing your opportunities to educate your clients and prospects.  Your contacts will still need to register for these webinars and they will be given the impression these webinars are LIVE having:
Reminder Emails
SMS Text Reminders (USA & Canada)
Poll Questions to engage in during the webinar
Opportunities to ask chat questions during the webinar
Brand new intros different from last years LiveONLINE webinar series
It's still a proven system for your clients and prospects to view these free webinars , and after they view the webinar(s), you'll have the potential of earning 20% commission when your referred contact purchases a Profit Masters Membership at the end of the webinar or anytime in the future.
Click Here to download the current month's 5 sample emails to promote this month's webinar…
How does an Affiliate Program Work?
Refer your prospects and clients to a free webinar or purchase the product directly using…
Unique URL links… designated only to you…
Banner Ads… designated only to you…
Note:  Set-up only once so you can continue to utilize the same URL's and Banner Ads throughout the LIVE ONLINE webinar series with Brad that will end July 2014.
Utilize your unique URLs and Banners on your:
Coach Websites
Promotional Email Campaigns
Facebook Event pages
Once your contact registers for a webinar or purchases a membership, we'll begin to track them in our Profit Masters database.  We'll notify you when your referred contact has purchased a Profit Masters Membership.  We then pay you a 20% commissions for the Profit Masters Membership they purchase:
$97 Business Basics – 12 weeks of training in 83 short videos
$397 Entrepreneur – An 11 Day Entrepreneur created series and includes the 83 Business Basics videos.
$997 Billionaire in Training – Lifetime All Access Membership with over 77 hours of video, 19 hours of audio and over 1000 pages of eBooks, whitepapers and business tools.
NEW Feature in Profit Masters
For all 3 Profit Masters memberships, we,ve utilized a new feature  called "evergreen" that phases in the posts on a daily or weekly basis.  So instead of getting all 200+ posts all at once, only a view posts will become available each day / week.  This will allow the posts to follow a logical schedule.
For example, the 83 Business Basics will have each week's content rolled out over a period of 12 weeks.  So the first week, user will only have accessible to week one's 7 videos.  Rolling out content this way provides user these advantages:
User won't feel overwhelmed to learn everything all at once

Reminder email drips of what has become available to them this week
Gives user a course outline of what they should be viewing and watching that week
As a Coach, you'll be able to check in to see if they have viewed what was assigned to them that week.
Click Here to view the Profit Masters roll-out schedule for all the content made available to your contacts over the course of 20 weeks.
Where do I get my Unique Affiliate URL's?
Once you are logged in, click on the "Affiliate Center" tab, then click on the tab called "Promotional Tools".
Free Webinar URL's are found in the "Default" category.
TRAINING VIDEOS
Affiliate Training Video (55 minutes).
This video includes the Constant Contact training video and the portion on Banner Ads and Links.
Constant Contact training video (15 minutes).
Everything you need to know about using Constant Contact to do e-mail campaigns.  If you want to go directly to "HOW TO FIND YOUR UNIQUE AFFILIATE URL", go to 5:45 minutes into this video.
We advise using Constant Contact (click link for details) for your email marketing. We already have some ActionCOACH templates available for you to use.
Banner Ads and Links training video (15 minutes).
This video covers the steps necessary to place banner ads and links on a web page or in an e-mail.
Tracking your contacts through the process…go to your Affiliate Center to see all the tools available to you:
Promotional Tools
Earnings
Reports
Settings

Click Here for more information about these tools in your Affiliate Center.
Commissions can really add up for you, so start sending out your first emails now.
If you have any questions or suggestions, we'd love to hear from you.
Please contact us at: bradsugars@bradsugarsprofitmasters.com
All the best,
Eve Fabros