Thank you again for your participation in Brad Sugars Profit Masters Affiliate Program!
Brad's FREE WEBINAR(s) is one of the products you can quickly and easily start marketing for to make money for your business.  When you market to your contacts via:
Email Marketing
Facebook Posts
Banner Ads in your ActionCOACH or Blog sites
To attend one of Brad's free webinars, your contacts will learn sales and marketing strategies directly from Brad Sugars himself which will do one of the following for your contacts:
Your existing clients receive validation that what you are teaching them is exactly what Brad is teaching them. They get very excited to have this chance to learn from the founder himself on the free webinars.
Your prospect clients will get an introduction to ActionCOACH business strategies directly from Brad, and know that contacting you, an ActionCOACH in their local area, they can learn to put Brad's strategies into action for their own business.
To get started, you will need to email your prospect database and invite them to Brad's next free webinar.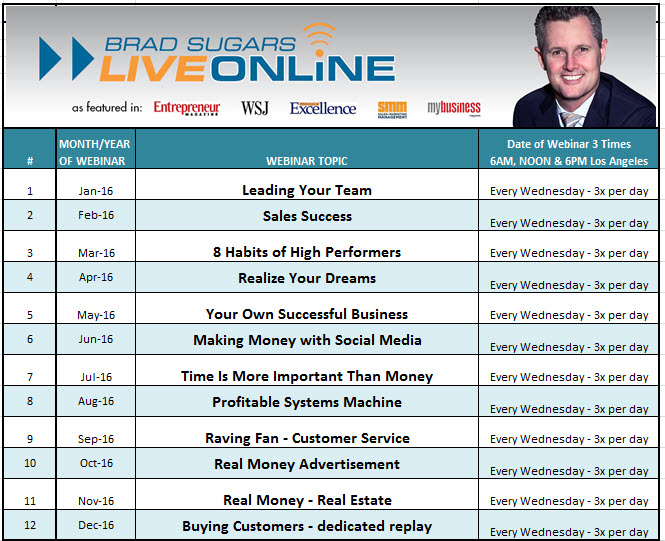 Select the 5 prewritten sample emails for this month's webinars to use, or feel free to use something of your own.  Our goal is to assist you in marketing to your base and getting your contacts to register for Brad's next free webinar.
Watch this short video to see how easy it is to create and send your email.  If you want to go directly to "HOW TO FIND YOUR UNIQUE AFFILIATE URL", go to 6:45 minutes into this video.
We advise using SOFFRONT for your email marketing. Login to your ActionCOACH Dashboard for details on how to sign-up.
Tracking your contacts through the process…go to your Affiliate Center to see all the tools available to you:
Promotional Tools
Earnings
Reports
Settings

Click Here for more information about these tools in your Affiliate Center.
Commissions can really add up for you, so start sending out your first emails now.
If you have any questions, please contact us directly at: bradsugars@bradsugarsprofitmasters.com
All the best,
Eve Fabros
Profit Masters Online Marketing Managers